Premier League
Football News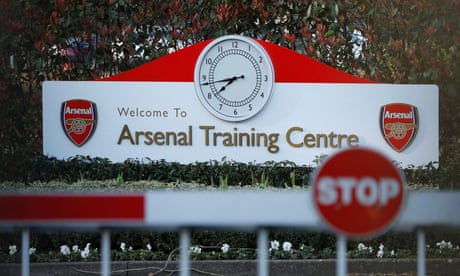 Premier League
Mar 28, 2020
Premier League players will be told to stop training amid doubts over restart
Resumption on 30 April appears increasingly unlikely | The Premier League...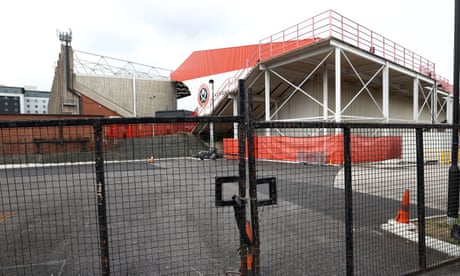 Premier League
Mar 28, 2020
Players' refusal to compete could stall return of Premier League and EFL
Footballers concerned about health risks and insurance policiesPremier...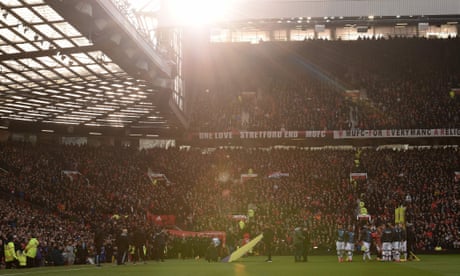 Manchester United
Mar 27, 2020
Manchester United will offer fans ticket refunds if season is not completed
Club remain committed to finishing current seasonPro-rata rebates an...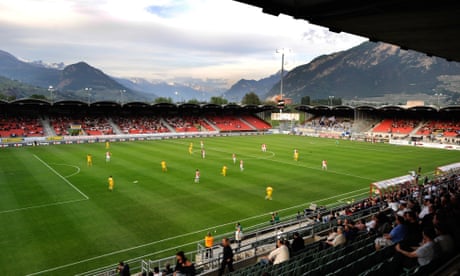 Football
Mar 27, 2020
No easy solutions: clubs across Europe in the dark as players battle wage cuts
Clubs across the continent from FC Sion to Dinamo Zagreb are facing...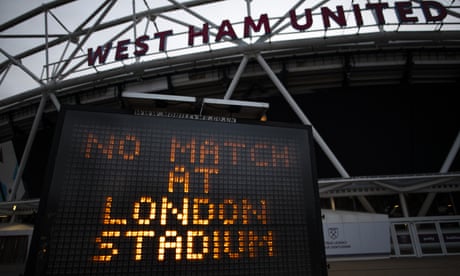 Premier League
Mar 27, 2020
Premier League players likely to accept wage deferrals to ease pressure on clubs
Decision to be made collectively with all 20 teams involvedClubs concerned...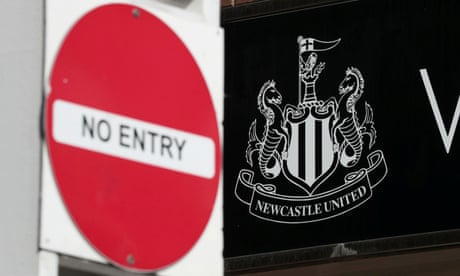 Newcastle United
Mar 26, 2020
Newcastle fans angry with club for not halting season-ticket payments
Club accused of failing to offer support at difficult timeAffected fans...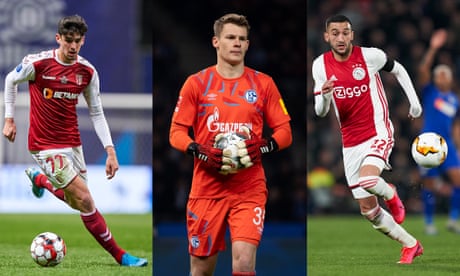 Football
Mar 26, 2020
The footballers who have already agreed to switch clubs this summer
Chelsea, Barcelona, Ajax, Benfica and Bayern Munich are all expecting to...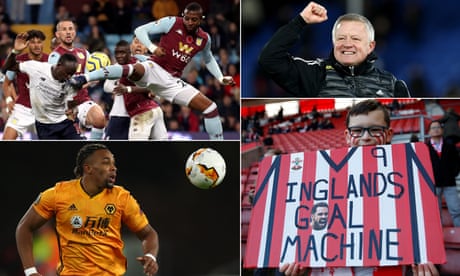 Premier League
Mar 25, 2020
From Mané to Ings: awards of the Premier League season so far
With football on hold we select some of the highlights of the top-flight...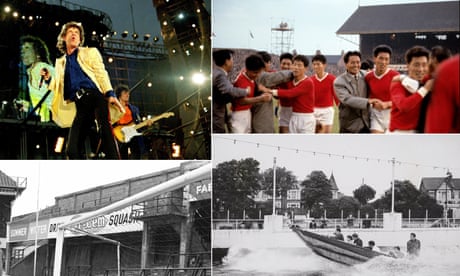 Football
Mar 25, 2020
Football quiz: stadiums of yore
Who flew The Nest? Who hosted the Spice Girls? Who was amused?More...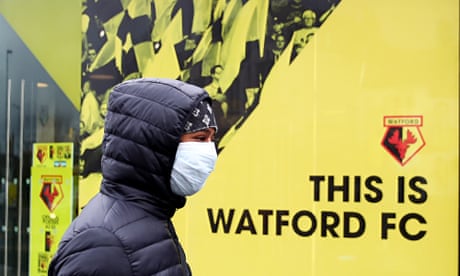 Watford
Mar 25, 2020
Watford offer NHS use of stadium in fight against coronavirus
'We're keen to do whatever we possibly can,' say WatfordSpace to be...
Premier League Table
| P | Team | GP | W | D | L | F | A | Pts |
| --- | --- | --- | --- | --- | --- | --- | --- | --- |
| 1 | Liverpool FC | 29 | 27 | 1 | 1 | 66 | 21 | 82 |
| 2 | Manchester City FC | 28 | 18 | 3 | 7 | 68 | 31 | 57 |
| 3 | Leicester City FC | 29 | 16 | 5 | 8 | 58 | 28 | 53 |
| 4 | Chelsea FC | 29 | 14 | 6 | 9 | 51 | 39 | 48 |
| 5 | Manchester United FC | 29 | 12 | 9 | 8 | 44 | 30 | 45 |
| 6 | Wolverhampton Wanderers FC | 29 | 10 | 13 | 6 | 41 | 34 | 43 |
| 7 | Sheffield United FC | 28 | 11 | 10 | 7 | 30 | 25 | 43 |
| 8 | Tottenham Hotspur FC | 29 | 11 | 8 | 10 | 47 | 40 | 41 |
| 9 | Arsenal FC | 28 | 9 | 13 | 6 | 40 | 36 | 40 |
| 10 | Burnley FC | 29 | 11 | 6 | 12 | 34 | 40 | 39 |
| 11 | Crystal Palace FC | 29 | 10 | 9 | 10 | 26 | 32 | 39 |
| 12 | Everton FC | 29 | 10 | 7 | 12 | 37 | 46 | 37 |
| 13 | Newcastle United FC | 29 | 9 | 8 | 12 | 25 | 41 | 35 |
| 14 | Southampton FC | 29 | 10 | 4 | 15 | 35 | 52 | 34 |
| 15 | Brighton & Hove Albion FC | 29 | 6 | 11 | 12 | 32 | 40 | 29 |
| 16 | West Ham United FC | 29 | 7 | 6 | 16 | 35 | 50 | 27 |
| 17 | Watford FC | 29 | 6 | 9 | 14 | 27 | 44 | 27 |
| 18 | AFC Bournemouth | 29 | 7 | 6 | 16 | 29 | 47 | 27 |
| 19 | Aston Villa FC | 28 | 7 | 4 | 17 | 34 | 56 | 25 |
| 20 | Norwich City FC | 29 | 5 | 6 | 18 | 25 | 52 | 21 |